Last updated on August 21st, 2023 at 11:31 pm
The Pattern
The pattern is the primary link between design and production and must communicate accurately with all the functions that have to use the pattern. These functions are grading marker planning and sewing. This information is conveyed by numbers, marks, nips, and notches, etc., and not by written instructions. New sample patterns always require some explanation, but there should be no necessity for written working instructions for production. It should tell the complete story to all concerned.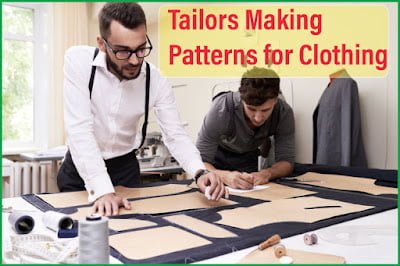 It is also necessary for every component to be cut.  Each part must be marked on both sides with grain lines and direction indicators. Patterns should be paired when the garment is to be cut from open rather than folded fabric. Two practical pairing methods are by marks and by color: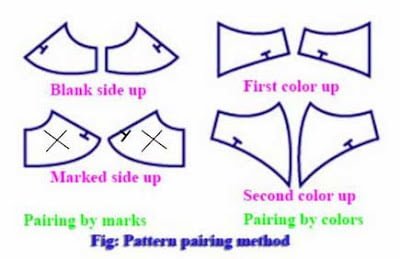 By Marks
Cut pair for each component and mark an X on one side only of each of the two pieces when they are in a paired position. The blank sides indicate correct pairing, as do the marked sides.
By Color
This method requires a pattern card with a different color on each side. Staple two pieces of the card together with the same color inside and then cut out the components. Pairing is achieved when the same color shows for a pair of the same element.
Patterns for asymmetrical garments should be prepared for positioning on the right side of the cloth only. A simple method to ensure the correct face-up setting is to mark the components with a large X.
Every piece must be identified regarding style number, garment type, the material for which the pattern is intended, and the number of components in a set for a particular fabric, i.e., cloth, lining, and fusible. A standard and straightforward method are to use a rubber stamp.
Preparing the Pattern
To ensure the correct positioning of the garment pattern within the cutting marker, every component has to be marked on both sides with direction indicators. Under most circumstances, these indicators can be kept on the grain line. The garment patterns are not always used for one fabric only, so every new fabric which is to be cut from a previously used production pattern must be checked for its pile factor, and the pattern markings changed if necessary.
Fabric Pattern
This refers to the form of the pattern on the right side of the cloth and has three aspects:
One Way
This is where the pattern form dictates that the garment patterns in one direction only. For example, if the motif on a printed fabric is an upright human figure, it is preferable that the figures stand on their feet and not on their heads.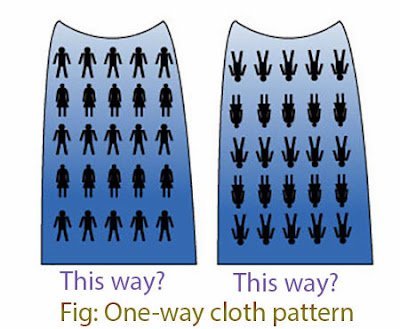 Two Way
This type of pattern form has a definite direction but it is not sufficiently dominant to warrant one-way only positioning. In most cases the pattern components for each size can be positioned one-up, one-down but this decision has to be carefully evaluated.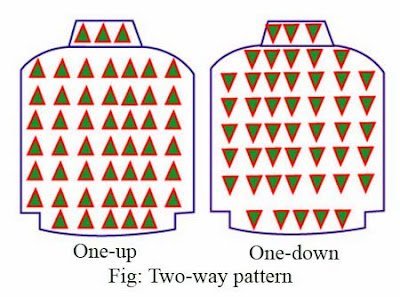 Consider the situation in a retail shop where two garments of the same style and fabric but cut in opposite directions, are hanging side by side on a display rail.
Non-Directional
This type of pattern form has no definite directions and subject to the pile factor, pattern components for one size can be positioned in either length direction. Patterned fabrics also include checks and stripes.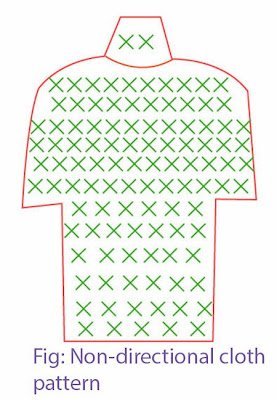 You may also like: Consumption Calculation of Basic Long Sleeve Shirt for Woven Items