Last updated on June 16th, 2023 at 08:34 am
Textile Testing is an Important Part for a Textile Company as they need a quality certificate to export their Textile or Garment Products. It's a Buyer requirement that the products they buy from different Garment Companies should meet their product criteria and quality. So here the question arises, where and how the products should be tested. Is it in the In-house lab of Manufacturing Company or in a Third party lab.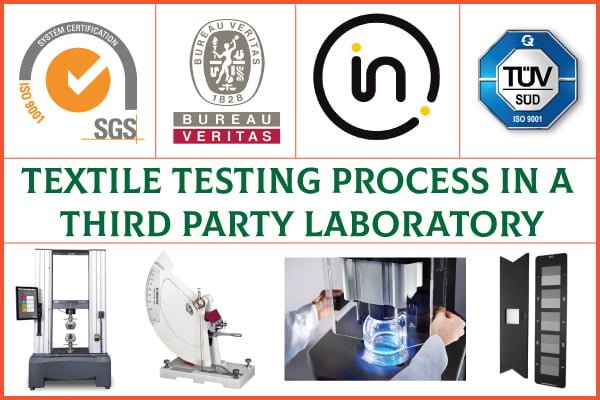 Tests can be done in the In-house lab of a Manufacturing Company or in a buyer approved Textile Testing Company. In the development stage, most of the tests are done in the in-house labs to develop the products quality. But it is necessary to send the products to a Third Party lab for testing to get the products testing certificate. The tests can be done in the Development stage or in the Production stage or in the both stage according to the Buyers requirement.
Some In-house labs and Tests are accredited by some Buyers. So the accredited tests are no longer need to be tested in the Third Party Testing Labs. After verifying, some European Buyers give accreditation to the in-house labs of the Manufacturing Companies and a very few Manufacturing Companies get accreditation from American Buyers.
Now we will learn how Textile Testing is done in the Third party Testing Labs –
There is so far difference between an In-house lab and a Third party lab. In a Third party lab, there are many departments. The departments are as follows –
Customer Service (CS)
Login
Test Assign (TA)
Big Cut and Break Down
Soft lines
Analytical or RSL
Reporting
Customer Service
It is the very first department where the Testing samples are received for testing. The Merchandisers contact with the customer service to give their products with a Test Request form for testing. Then the customer service passes the products with Test Request Form to the Login department.
Login
In the login department, the samples are sorted according to the Test Request Form, Sample Category and services like Regular, Express, Emergency, Shuttle and logged in. They give a login number in the Test Request Form by mentioning service. Generally the regular service is given by 5 days, Express by 3 days, Emergency by 2 days and Shuttle by 24 hrs. Data Entry service is also given by the Login Department. Then the samples are passed to the Test Assignment department.
Test Assign
Test Assignment is the most important department where the tests are assigned for a product. The tests are assigned according to the product category and Buyers Program manual or Protocols. Not a single extra test should be assigned or not a single test should be missed. The test Assignment is also done by department wise like Physical, Chemical, Colorfastness, FIbre etc. Washing instructions, testing methods etc. are also defined by this department. Then the samples are passed to the Big cut and Breakdown Department.
Big Cut and Breakdown
According to the Test Assignment, Big Cut prepare the samples for different technical departments like physical, Dimension, Fibre, Colorfastness, and Breakdown etc. and the samples are passed to the technical departments and also to Breakdown. The Breakdown department prepares the samples for Analytical or RSL tests and Also for PH and Formaldehyde tests.
Soft lines
There are many departments relate to Soft line. The departments are Physical, Wet and Dimension Lab, Colorfastness Lab, Flammability Lab, Fiber Lab.
Physical Lab
In the physical lab most of the Physical tests are done. Tensile and Tear strength of fabrics, Operability of zipper, strength and torque test for zipper, Pocket reinforcement, seam strength, attachment strength of garments etc. are done in the physical lab.
Flammability Lab
In Flammability lab Flammability of clothing textile, Children Sleepwear flammability etc. tests are done.
Colorfastness Lab
In colorfastness lab, Colorfastness to Light, Water, Sea water, Pool water, Chlorine Bleach, Dry Clean, Non-Chlorine Bleach, Perspiration, Saliva, Phenolic Yellowing, Dye transfer, Rubbing/Crocking etc. tests are done.
Fibre Lab
In fibre Lab, Fiber analysis, Exclusive of Decoration, Labeling review of fibre etc. tests are done.
Wet and Dimension Lab
In wet and Dimension Lab, Dimensional Changes, Appearance, Actual Laundering, Colorfastness to Commercial Dry Cleaning, Side seam Twisting, Durability after repeated Home Laundering, Iron Ability etc. are done in the Wet and Dimension lab.
Analytical or RSL (Restricted Substrates List)
In the RSL department, many tests like, Ph, Formaldehyde, Azo Dye Determination, Phthalates, California Proposition 65, CPSIA and Total Lead in Surface Coating and Substrates, Cadmium Content, Nickel Spot and Nickel Release test, Chromium 6, Soluble Heavy Metals Content etc. tests are done.
Reporting
Reporting is the last and most important department in a 3rd party Textile Testing lab. There is a due date for every Test Request form and on that due date all the data for a specific Test Request Form come to the reporting department. The reporters work Buyer wise. They analyze the data and give Pass and Fail according to the Buyer requirements. They make the Report against a TRF release the report.